Medicaid DSH cuts should be delayed, House Speaker Nancy Pelosi (D-CA) told a gathering of hospital officials.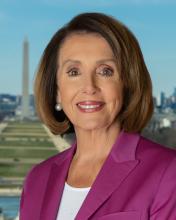 According to Speaker Pelosi,
DSH cuts threaten to erode the health of community hospitals, safety-net hospitals and rural hospitals, [affecting] the health of not only the families that rely on Medicaid, but any person who relies on these hospitals for care.
NASH has long urged Congress to delay or even eliminate Affordable Care Act-mandated cuts of Medicaid disproportionate share payments, doing so twice in the past week: first in a letter to Senate Finance Committee chairman Charles Grassley (R-IA) and then in a message to all House members. NASH believes this cut would be especially harmful for the nation's private safety-net hospitals.
Learn more about Speaker Pelosi's remarks in the Becker's Hospital Review article "House speaker urges Congress to ease Medicaid payment cuts to hospitals serving low-income patients."
https://safetynetalliance.org/wp-content/uploads/2019/04/Pelosi.Official.Photo_.Low_.Res__13.jpg
220
176
Joseph Steinbock
https://safetynetalliance.org/wp-content/uploads/2018/09/nasnh-logo.png
Joseph Steinbock
2019-04-12 06:00:19
2019-04-12 13:45:02
Delay Medicaid DSH Cuts, Pelosi Says