The Medicaid and CHIP Payment and Access Commission met for two days last week in Washington, D.C.
The following is MACPAC's own summary of the sessions.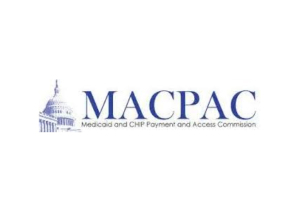 The October 2018 MACPAC meeting covered a range of front-line issues in Medicaid, leading off with an analysis of disproportionate share hospital (DSH) allotments on Thursday morning. Following the analysis, the Commission discussed options for March recommendations on how to structure DSH allotment reductions that are scheduled to begin in fiscal year 2020. The Commission later resumed the discussion it began in September on work and community engagement requirements, presenting new data from Arkansas on compliance and disenrollments, as well as information gathered since that meeting about Arkansas's approach to implementation.
On Thursday afternoon, the Commission looked at the Department of Homeland Security's proposed public charge regulations and their implications for Medicaid and the State Children's Health Insurance Program (CHIP). A session responding to a congressional request to look at issues facing the Medicaid program in Puerto Rico was next on the agenda. A presentation from an ongoing project on how Medicaid drug coverage compares with Medicare Part D and commercial plans closed out the day.
On Friday, the Commission heard from Tom Betlach, director of the Arizona Health Care Cost Containment System, and Karen Kimsey, chief deputy at the Virginia Department of Medical Assistance Services, on their experiences integrating care for dually eligible beneficiaries.* At the final October session, the Commission reviewed the findings from a study of how six states carried out simplified Medicaid eligibility and enrollment established by the Patient Protection and Affordable Care Act (P.L. 111-148, as amended).
Supporting the discussion were the following presentations:
Because NAUH members serve so many Medicaid patients, MACPAC's deliberations are especially relevant to them because its recommendations often find their way into future Medicaid and CHIP policies.
MACPAC is a non-partisan legislative branch agency that provides policy and data analysis and makes recommendations to Congress, the Secretary of the U.S. Department of Health and Human Services, and the states on a wide array of issues affecting Medicaid and the State Children's Health Insurance Program.  Find its web site here.
https://safetynetalliance.org/wp-content/uploads/2018/10/macpacgov.jpg
300
425
NASNH Administrator
https://safetynetalliance.org/wp-content/uploads/2018/09/nasnh-logo.png
NASNH Administrator
2018-10-30 06:00:47
2018-12-11 16:51:24
MACPAC Meets