Coronavirus update for Wednesday, May 13 as of 2:30 p.m.
NASH Advocacy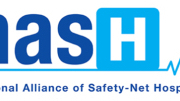 Following the introduction yesterday of H.B. 6800, the Health and Economic Recovery Omnibus Emergency Solutions Act ("HEROES Act"), NASH wrote to congressional leaders asking them to address five issues in the next COVID-19 legislation:
direct an additional $100 billion to hospitals;
prevent finalization of the Medicaid fiscal account accountability regulation (MFAR);
increase the federal medical assistance percentage (FMAP);
increase states' Medicaid DSH allotments 2.5 percent (while also delaying Affordable Care Act-mandated cuts in state Medicaid DSH allotments scheduled to take effect on December 1); and
reduce interest rates and lengthen the payback period for money provided to hospitals by the states through the CARES Act's Accelerated and Advance Payment Program.
Centers for Medicare & Medicaid Services
Centers for Disease Control and Prevention
Food and Drug Administration
The FDA has issued emergency use authorization (EUA) for a commercial nurse call system for use by providers for remotely monitoring and communicating with patients on ventilators.
Government Accountability Office
Federal Funding Opportunities for Hospitals
NASH has prepared a document that collects and presents in one place the various new federal funding opportunities for hospitals resulting from legislation addressing the COVID-19 public health emergency.  Find that document here.
(To receive this daily update directly, sign up for our mailing list at info@safetynetalliance.org.)
https://safetynetalliance.org/wp-content/uploads/2020/04/cdc.png
193
262
Joseph Steinbock
https://safetynetalliance.org/wp-content/uploads/2018/09/nasnh-logo.png
Joseph Steinbock
2020-05-14 06:00:48
2020-05-13 17:30:59
Coronavirus Update for May 13, 2020