Completing its assignment from the U.S. Department of Health and Human Services, the Health and Medicine Division of the National Academies of Science, Engineering, and Medicine has published its fifth and final report on social risk factors that affect health outcomes for Medicare beneficiaries and how to account for those risk factors in Medicare payments.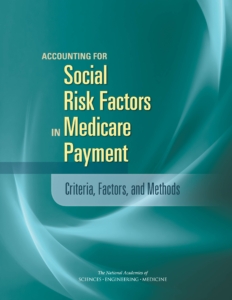 Among other things, the report notes that
Although VBP [value-based purchasing] programs have catalyzed health care providers and plans to address social risk factors in health care delivery through their focus on improving health care outcomes and controlling costs, the role of social risk factors in producing health care outcomes is generally not reflected in payment under current VBP design. This misalignment has led to concerns that trends toward VBP could harm socially at-risk populations: Providers disproportionately serving socially at-risk populations are more likely to score poorly on performance/quality rankings, more likely to be penalized financially, and less likely to receive bonus payments under VBP. VBP may be taking resources from the organizations that need them the most.
The risk factors the Academies considered were socioeconomic position; race, ethnicity, and cultural context; gender; social relationships; and residential and community context.
The Academies' fifth and final report brings together its first four efforts.
The first report, Accounting for Social Risk Factors in Medicare Payment Programs: Identifying Social Risk Factors, presented a conceptual framework and the results of a literature search linking social risk factors to health-related measures.
The second report, System Practices for the Care of Socially At-Risk Populations, explored six patient-centered systems practices that show potential for improving care for socially at-risk communities.
The third report, Accounting for Social Risk Factors in Medicare Payment: Criteria, Factors, and Methods, offered guidance on social risk factors might be incorporated into future Medicare payment systems.
The fourth report, Accounting for Social Risk Factors in Medicare Payment: Data, offered data strategies and solutions for collecting data to measure social risk factors that might be addressed in future Medicare payment systems.
The fifth and final report, Accounting for Social Risk Factors in Medicare Payment, offers additional thoughts and recommendations for next steps.
The subject of socio-economic risk adjustment has long been of great interest to the National Association of Urban Hospitals because so many of the patients private safety-net hospitals serve present with such risk factors.  NAUH has long maintained that Medicare payment systems and innovation programs need to be risk-adjusted to reflect these additional risk factors.
Find the new report here.