The following is the latest health policy news from the federal government as of 2:45 p.m. on Friday, November 19.  Some of the language used below is taken directly from government documents.
Congress
On Friday the House passed a $1.7 trillion social spending bill, H.R. 5376 – Build Back Better Act, with no Republican votes and all but one Democratic vote.  The Congressional Budget Office score indicates that the health care policies in the bill are paid for by cuts in other health care programs.
The bill includes nearly $300 billion in health care provisions, including:
$57 billion to provide insurance to more than two million people in non-expansion states
$74 billion to temporarily extend subsidies for Affordable Care Act health plans
$146 billion for home health services
$36 billion to cover hearing services in Medicare
$26 billion to expand the public health workforce, address maternal mortality, and prepare for future pandemics
This new spending would be paid for in part by:
nearly $34 billion in savings from cuts in uncompensated care payments to hospitals in 12 states that have not expanded their Medicaid programs
nearly $300 billion in savings through policies to negotiate the cost of some expensive drugs, penalize drug companies that raise prices faster than inflation, redesign seniors' Medicare benefits, and repeal the drug rebate rule
The bill that passed the House this morning is the result of a number of last-minute changes to smaller provisions from previous versions.  We are still going through that language and will update you on any changes you should be aware of.  The bill will certainly be changed by the Senate, where it will require the votes of all 50 Democratic senators to pass.
The White House
Provider Relief Fund
HHS's Health Resources and Services Administration, which administers the Provider Relief Fund, has established a 60-day grace period for complying with the fund's Reporting Period 1.  The grace period began on October 1, 2021, and will end on November 30, 2021 at 11:59 p.m. (eastern).  Learn more here, under "60-Day Grace Period – Reporting Period 1."
Centers for Medicare & Medicaid Services
COVID-19
Effective April 1, 2022, CMS will introduce seven new ICD-10 codes for COVID-19 treatment and vaccines and the CDC will implement three new codes for reporting COVID-19 vaccination status.  To find these codes, go here and scroll down to the downloadable zip file "ICD-10 MS-DRGs V39.1 Effective April 1, 2022  (ZIP) – – Updated 11/16/2021."
CMS has posted the first in a series of short podcasts for frontline nursing home staff.  "Nursing Home Series for Front Line Clinicians and Staff" addresses training and infection control practices in nursing homes to help combat the spread of COVID-19.  Find the podcast here.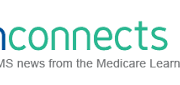 Health Policy Update
CMS has published the latest edition of MLN Connects, its online newsletter of information about Medicare payment and other policies.  Articles in this edition address changes in nursing home visitation policies, opportunities for clinicians to review their 2020 quality payment program performance data before it is published on the Medicare Care Compare web site, the 2022 update of Medicare thresholds per beneficiary, and more.  Go here for the latest edition of MLN Connects.
Department of Health and Human Services
A new federal regulation requires health insurance issuers, employer-based health plans, and other group health plans to report on prescription drug and health coverage costs.  The requirement, issued as a final rule with comment period, was issued jointly by the departments of Health and Human Services, Labor, and Treasury and the federal Office of Personnel Management and was issued to implement the No Surprises Act and the transparency requirements of the Consolidated Appropriations Act of 2021.  The regulation requires health plans, health insurance issuers offering group or individual health insurance coverage, and health benefits plans offered to federal employees to submit selected data to the departments involved, which will work through the office of HHS's Assistant Secretary for Planning and Evaluation to publish a report on prescription drug pricing trends and rebates and their impact on premiums and consumers' out-of-pocket costs.  The data submission requirements include information on average monthly premiums and drug spending for patients compared to their employers and/or group health plans/health insurance issuers.  Learn more about the regulation from the following resources:
HHS Secretary Xavier Becerra spoke this week at the National Association of Medicaid Directors' fall conference.  Read his remarks here.
Centers for Disease Control and Prevention
Food and Drug Administration
The FDA has authorized use of a single booster dose for all individuals 18 years of age and older after completion of primary vaccination with any FDA-authorized or approved COVID-19 vaccine.  Learn more about this development, and the reasoning behind it, in this FDA news release.
The FDA has updated its enforcement policy for viral transport media during the COVID-19 public health emergency.  Among the audiences for this guidance is clinical laboratories.  Find the updated guidance here.
National Institutes of Health
Occupational Safety and Health Administration (OSHA)
In the wake of a federal court ruling that OSHA "take no steps to implement or enforce" its emergency temporary standard requiring employees of companies with 100 or more employees to be vaccinated, OSHA has suspended activities related to the implementation and enforcement of that requirement.  Learn more from this OSHA news release.
Government Accountability Office (GAO)
Stakeholder Events
CMMI – The Value-Based Insurance Design Health Equity Business Case for Medicare Advantage Organizations – December 2
The Center for Medicare and Medicaid Innovation (CMMI) is sponsoring a series of webinars for current and potential Medicare Advantage Organization participants in its Value-Based Insurance Design Model.  The first webinar in the series will provide an overview of the model's health equity incubation sessions effort, articulate a business case for Medicare Advantage organizations to leverage Value-Based Insurance Design Model components to address health inequities in their member populations, and provide specific guidance and clarification on the full extent of health equity-focused flexibilities that fall under the model's waiver authority.  The first webinar will be held on Thursday, December 2 at 2:30 p.m. (eastern).  Go here for more information about the webinar and to register to participate.
CDC – Molecular Approaches for Clinical and Public Health Applications to Detect Influenza and COVID-19 Viruses – December 9
The CDC will hold a webinar on Thursday, December 9 to share with clinicians information about molecular approaches for clinical and public health applications to detect the influenza virus and COVID-19.  Go here to learn more about the webinar and how to participate.